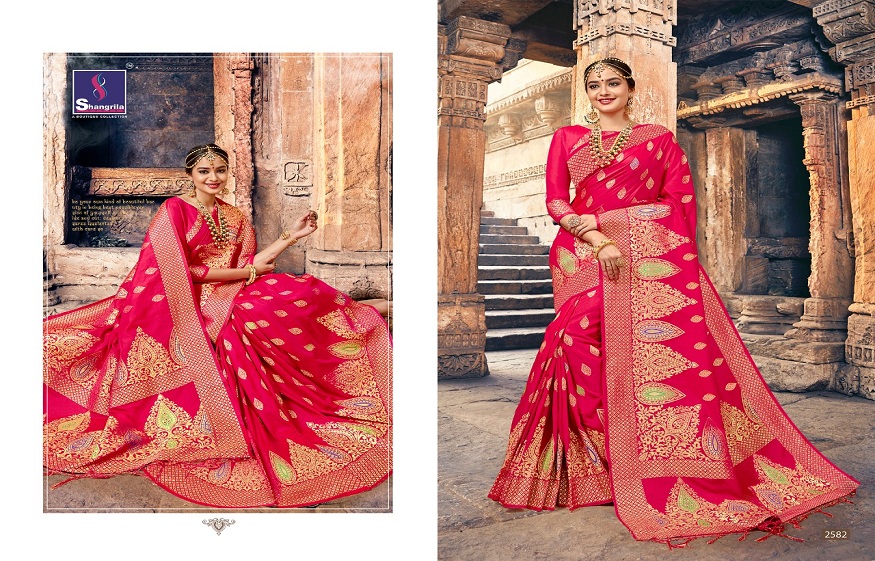 How to buy pure Banarasi sarees?
Sarees have been a trend in many communities. It has become a fashion statement for a long. Even in modern times, it did not lose its reputation. But, surely there have been many alterations in the clothing system. Banarasi sarees have never seen many alterations. Their prominence has remained vibrant. Authentic sarees are mostly handwoven. In the case of pure banarasi silk sarees, it is obvious. The process includes silk yearn for the manufacturing of the sarees. Minute attention is given while manufacturing them. Skilled weavers usually engage in making Banarasi sarees. Even in the Mughal era, such sarees were common. They were a matter of pride at that time. For every woman, those sarees meant a lot. It used to be a huge element of their traditional culture.
The market of Banarasi sarees is getting fraudulent essence in recent times. Sellers are trying to sell impure Banarasi sarees to customers. They are replacing the original sarees with the fake ones. They are using mere imitations of the pure Banarasi sarees. As a result, people are being prone to get cheated. The original handmade sarees are not available everywhere. The manufacturers are changing rapidly. It is creating a generation of fake Banarasi sarees. Usually, such sarees are machine woven. To choose the correct Banarasi sarees, below are some of the tips:
Reverse side
Before buying a proper Banarasi saree, surely looking at all the sides of the saree is important. It is obvious that one will look at the front side of the saree. But, looking at the other side is also important. You need to determine whether the saree you are buying is pure. For that, checking the reverse side of the saree is important. It will provide you with an understanding of whether the saree is genuine. Banarasi sarees consist of certain recognizable elements on the reverse sides. They have floats inside the warp which will make you understand that the saree is purely Banarasi. It is usually hand woven. Machine woven sarees are not similar and provide a smooth finish instead.
Certificate
An authorized certificate is important for any product. A saree will use the market logo of the silk mart from where it has been manufactured. It is a very vital aspect. You need to look for the same for buying pure silk sarees. Otherwise you will get cheated with a wrong product. That is why, you should always demand a certificate for the same. Only then the saree can be considered as pure. You can use this trick all the time. Even when you are shopping online. It will keep no loophole in your understanding of the genuinity of a saree. As a result, people since ages use these tactics to recognize a pure Benarasi saree.
Pin marking
There is another technic to recognize a pure new modern saree . It can help you to tell whether a saree is authentic. Pin markings exist in Banarasi sarees. Look for them in the saree in your front. It is usually placed on the selvage of the saree. It is used to secure the saree to the loom.
Price range
The price range of a Banarasi saree will differ from other ordinary sarees. It consists of high-quality silk. Also, the Zaris are made from silver and gold. So, such sarees are commonly expensive. So, find sarees that are of high cost. They tend to be more authentic. Original Banarasis are made of hand. It takes a long time for it to get created. For this reason, it costs a huge amount of money to purchase it.
Patch presence
The presence of a patch is another recognizing element. A patch of normal silk is a vital aspect. Banarasi sarees can be traced with this. You can look for such kind of a patch of silk in the sarees you select. There exist nearly eight inches of such patch. Especially in the pallu section, it is available. In the online market, find close-up images of the same. It is an easy job to do. It will help you to locate the real Banarasis. Such silk patches usually will cover the shoulder area of your body when you wear the saree.
Mughal patterns
Pure Banarasi sarees have Mughal patterns in them. They are inspired by Mughal features. For example, Domak and Ambru are such features that are found in many such sarees. Moreover, an intricate floral design of zari can exist. Along with that, several themes like Bel and Kalga can also be seen.  Such patterns act as a hallmark of the sarees. They glorify the craftwork on them.  Such weavings are not easy to be done. Duplicate sarees will never possess these.
You need to indeed learn to identify pure Banarasi sarees. The above tip may surely help you. Try to remember them whenever you go to buy such a saree. Knowing these tactics will help you immensely. You will no more have the fear to come home with the wrong saree. You will be able to differentiate between the pure saree and the fake one. Checking the saree with the help of the above points is important. It will let the person check the authenticity of the saree. People usually buy Banarasi for festivals. So, they need to be attentive enough to buy the same properly. It will hence not disrupt their reputation if the saree is of good quality.
It is not much easy to find a difference between  authentic fancy banarasi saree  and a fake one. So, you need the above guidelines for assistance. You can touch and try to feel the difference in this case. You can then get hold of authentic sarees. Double check the tips given above. Only then go ahead to buy a saree. Especially try to check the reviews of people about a company. You will be sure that which brands provide authentic sarees. Choose a trusted website to buy the same. Get access to every relevant information presented by the providers on their website.